| | |
| --- | --- |
| The Great Dither Shootout | |
Compiled results: (last updated: 01. May 2006, 18:00 CET - Poll running for approx. 39 months)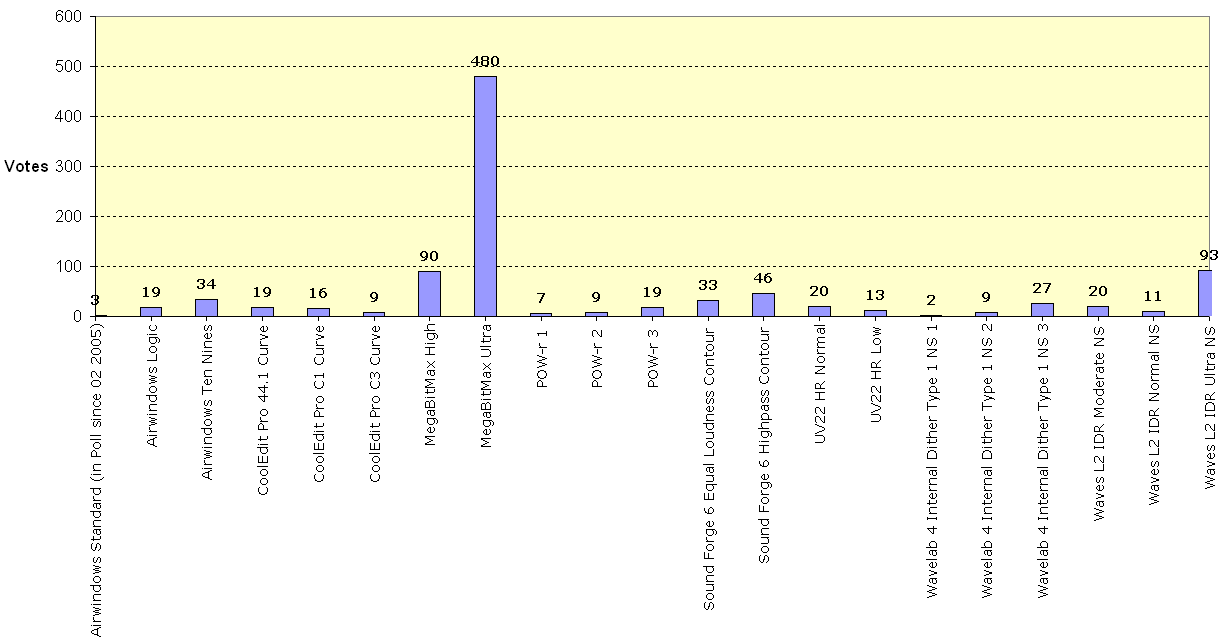 Thanks to everyone who participates in the test. It has been amazing to see not only the results, but to see who is taking part. So far we've had results come in from all ages, all corners of the world and all professions related to music and audio. Rest assured that every comment, every suggestion made is read and considered. As the test is anonymous, we do not have the ability to answer you directly. If you want us to reply, please contact us directly via Email.
Some outrageous generalizations:
So far the blind test has been taken by 979 people spread over 48 countries and all 5 continents.
Major Countries still missing in this poll (amongst others) are: China*, India, Indonesia, Pakistan, Bangladesh and Vietnam. Interestingly, these 6 countries are home to around half of the Earth's population. *not considering one vote from the independant region of Macau
Old people like Sonic Solutions.
Older people like SAW.
There are really nuendo users on Mac (...so it's not just a marketing trick!)
"Xtj", studio engineer working for the company "Jrsjrs" in American Samoa: I'd really like to get to know you. Give me a call! :o)